Business Model You® Workshop & Master Class
led by Dr. Timothy Clark -

Author,

Business Model You

&

Co-creator,

Business Model Generation
Full­-day Workshop: Friday, May 15 | Full­-day Master Class: Saturday, May 16
— Both events 9:30 AM till 5:30 PM —
The Career­-Making Skill Nobody Taught You
You've worked hard to build a career. You're smart, trustworthy, and committed. You've honed your skills to become the best you you can be.
What's more, you're great with customers, a strong communicator, and you know how to empower teams. You've sharpened your ability to help others become the best they can be.
But you're ready for more: a promotion, different challenges — maybe even your own business. What's the next step?
For the past 40 years, traditional career advice has focused on 1) developing yourself, and 2) helping develop others. That approach makes sense, but it's missing a crucial "third side" of the career development triangle: understanding strategy and financials, where an organization is headed, and your role in moving the organization forward. But how can you do that without getting an executive MBA, studying accounting, or taking a stint on a strategy team?
The answer is to learn business modeling: the process of defining organizational and personal strategy.
And in our experience, the best way to learn business modeling is through immersive practice sessions where, with professionals from diverse industries, you repeatedly build and deconstruct both enterprise and personal business models, all under expert guidance. Such sessions help you explore and clarify your professional identity.
Essential Training for Enterprising Professionals
Now, you can learn business modeling using the world's most powerful business modeling tool. You'll
be taught directly by Dr. Timothy Clark, whose business modeling books have sold over a million copies in 30 languages worldwide.
Dr. Clark's global bestseller Business Model You describes a "personal business modeling" methodology that reveals insightful ways to uncover fresh, more fulfilling career and life possibilities.
If you enjoyed the book (and even if you've yet to read it) you'll love our live workshop, where you'll quickly master the Business Model You® methodology with direct guidance from its creator.
What You'll Learn
In this immersive workshop you'll master the basics of Business Model You®, the powerful career redesign method you can use for a lifetime. Specifically, you will:
Grasp business model thinking and diagram your personal business model

Define the Value and Purpose of your work

Create a new personal business model harmonized with that purpose

Understand and practice the Three Questions™ career management technique
Our work together will include pair and group exercises, interactive presentations, structured feedback sessions, case studies, and group-­generated Q&A with Dr. Clark.
Who Should Attend
Professional advisors planning to use the Business Model You® methodology to help clients, colleagues, or students

Mid­career professionals seeking to redesign how they work

Managers striving to align individual employee actions with team goals
A Rare Opportunity
In just one day of training, you'll learn to apply the personal business modeling method that will drive your success for years to come. Join tens of thousands worldwide who have enjoyed the career-changing benefits of Business Model You®.
Secure your spot today. Space is limited.
Please note, all registrants will receive free, lifelong access to the

Redesign Your Career online course

— a €90 value!
Business Model You® Workshop
Friday, 15 May 2015
Program Overview
Draw

1. Set today´s goal: Which of the Three Questions Must You Ask Now?
2. Guided Tour of the Personal Business Model Canvas 

3. Draw Your As-Is Personal Business Model


Reflect

1. Trusted Other Listening Laboratory (TOLL-1): "Painstorm"

2. Personal Business Model Revision Case
3. Think Out Loud Laboratory (group TOLL-2): Create New Possibilities For Your Model
4. Colleague Buzz/Q&A: Ask the Author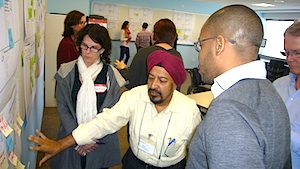 — Coffee Break —



1. Know Your Purpose: Case and Exercise 

2. Purpose-Full Cocktail Party
3. Morning Summary/Group Picture/Table Change

— Lunch —



Revise

1. Reinvention Cases
2. Exercise: (re)Design Your Value Proposition Using PINT™
3. Think Out Loud Laboratory (group TOLL-3 ): Revise Your Personal Business Model
4. Colleague Buzz/Q&A: Ask the Author

— Coffee Break —


Act

1. Guided Tour of the Enterprise Business Model Canvas 

2. Team Exercise: Diagram a Familiar Enterprise Model
3. Develop a Focused Inquiry™ for Testing Your New Model
4. Summary and Evaluation

Social Hour/Networking



Seating is limited. Participation fee includes:


• Lunch and unlimited refreshments throughout the day
• Participant Guide
• Two oversized Personal Business Model Canvas posters

Note to leaders and professional advisors: Participation in the Business Model You® Workshop is required for participation in the Business Model You® Master Class.
Business Model You® Master Class
Saturday May 16, 2015
Program Overview
The Business Model You® Master Class builds upon experiential learning from the Business Model You® workshop. Now that you can think and feel in Personal Business Model terms, you'll learn how to implement the methodology at your own workplace.
For one full day, a select group of 24 participants will study and practice techniques for using the Business Model You® methodology with clients, colleagues, or students. Our work together will include a blend of interactive presentations, pair and group exercises, case studies, structured feedback sessions, and group-generated Q&A with the author.
All participants will receive a 66-page, full-color Facilitator Guide (printed, not a PDF file) that includes a complete, 25-page workshop scenario/script detailing how to conduct a Business Model You® workshop.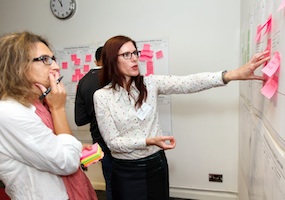 Enrollment Prerequisites
All applicants for the Master Class must have completed the Business Model You® Workshop. Enrollees will be informed as to specific preparations upon acceptance in the class.
Who Should Attend
Professional advisors, coaches, counselors, consultants and others who want to use the Business Model You® methodology in their professional practices

Team leaders, entrepreneurs, or managers striving to align individual actions with enterprise aims or otherwise proactively manage talent in a fresh way
What You'll Learn
Working closely and directly with the method's originator, you'll practice and learn the following:
Four-Phase engagement design

How to use Three Questions with colleagues/clients

Simple Rules for drawing Canvases

Personal Business Model debriefing competencies

Training design/incorporating Business Model

You

®

into your professional practice
Master Class Agenda
Facilitator Guide Overview

Set Your Goal: How Will You Use the Methodology?

The Four-Phase Approach to Designing Engagements

Simple Rules Canvas Technique Practicum

Colleague Buzz/Q&A



— Coffee Break —
Trusted Other Listening Laboratory (TOLL) Overview

Coaching Practicum 1: TOLL Pair and Share

Coaching Practicum 2: TOLL group 3 x 3

Questions by Building Block Poster Session

Wrapup and group picture, table change



— Lunch —
Create Your Professional Identity in Seven Words

Coaching Practicum 3: Building a new model based on Professional Identity

Individual/enterprise model harmonization case

Training Design Overview



— Coffee Break —
Training Design Practicum in Groups

Training Design presentations

Summary and Evaluation

Presentation of Certificates of Completion

Seating is limited. The participation fee includes:
Please contact organizer Mercedes Hoss-Weis (mercedes (at) businessmodelyou.com) with questions.
ExperTeach offers outstanding ambience with unlimited refreshments in a relaxed, visit-anytime break area adjacent to the workshop space. The venue is steps away from the Central Train Station and Bus Terminal.

The Training Center is ideally located: From the central station, it is a 5-minute walk along the Arnulfstraße. Suburban train and streetcar stations are nearby and you can reach the Mittlerer Ring (central circular road of the Munich street network) by car in a few minutes.
This outstanding location pays off after-hours: Nearby is the famous Augustinerkeller beer garden, and you can easily reach the pedestrian zone, the Karlsplatz/Stachus, or the Theresienwiese in just a few minutes.
Register at Community.BusinessModelYou.com to download the free, full-color 79-page book sample.
You can also learn more by watching this short video.

Learner Praise for Business Model You®

"I loved the ability to actually rehearse and say what I am and simplify my message and clarify the whole model for myself with the help of others."
Francisco Baptista
"The thing that is really life-changing is that I now think really entrepreneurially. So I have a totally different mindset compared to how I thought in the past. And I think I will progress that going forward and I definitely know that this will help in my future career."
Rolf Crisovan

"As an MBA candidate, I'd gleaned bits and pieces of career insight from multiple personality and aptitude tests, but was looking for something more holistic. Fortunately I met Michael Lang, who introduced me to Business Model You during lunch at the Innovation Games Summit. After returning home, I bought the book and used the methodology. I was amazed at my ability to visualize my future career with the Personal Business Model Canvas. I happened to be applying for jobs, so the timing was perfect. I recommend Business Model You to all professionals, whether they're satisfied with their current jobs or not."
Sarvesh Singh, Former Europe Delivery Manager for Astellas Pharma

"An amazing workshop. I've renewed my passion."
Matteo Fusco, Italy

"Business Model You is the ultimate self-coaching book, but to ensure follow-through,
I recommend a workshop with the author. The results are remarkable."
Kaori Okubo, Tokyo

"Thank you for writing Business Model You, it changed my life. I was a sad chemical engineer, now I'm a happy consultant!"
Gustavo Marques Couto, Brazil

"I love Business Model You because it gives clarity, focus, and direction--all on one page,
with a proven, step-by-step method based on the building blocks of business itself. It's simple, fast, and effective. The visual aspect is fun and engaging. And, yes--it works!"
Bryan Lubic, Professional Development Advisor, San Diego State University

"Your Business Model You work is amazing and can be life changing for people applying it. I know from experience."
Annette Mason, U.S.

"This is an incredible book. It has changed my own life as well as those of my clients."
Mary Anne Shew, Small Business Consultant, Rochester, New York
Read what participants said about recent Workshops and Master Classes.
Cancellation terms: If you cancel up to one month before the event, 50% of your workshop fee will be refunded. After that date we cannot refund workshop fees for any reason, but at any time you may designate someone else to attend the event in your place.
Note: Program content is subject to change at the facilitator's sole discretion. If the program is unavoidably canceled all ticket prices will be refunded 100%. Off-Time cannot be held responsible for travel reservation losses or inconvenience resulting from unavoidable cancellation.