L'Aquila is the capital city of the Abruzzi region in Italy. Laid out within medieval walls upon a hillside in the middle of a narrow valley, tall snow-capped mountains of the Gran Sasso massif flank the town. A maze of narrow streets, lined with Baroque and Renaissance buildings and churches, open onto elegant piazzas. Home to the University of L'Aquila, it is a lively college town and, as such, has many cultural institutions: a repertory theater, a symphony orchestra, a fine-arts academy, a state conservatory, a film institute. Close to the highest of the Apennine summits, L'Aquila is positioned at an altitude of 721 metres in the Valley of the Aterno-Pescara, situated between four mountain peaks above 2,000 metres. The mountains block the city off from warm humid air currents from the Mediterranean, and give rise to a climate that is cool in comparison to most of central Italy, and dry. L'Aquila is approximately 100 kilometers (62 mi) to the east-north-east of Rome, with which it is connected by a highway through the mountains.
How to get to L'Aquila – from Rome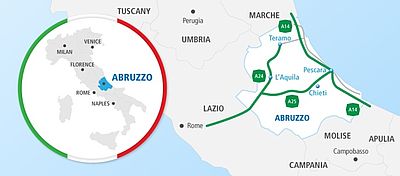 The nearest airports are Rome Fiumicino (FCO), Rome Ciampino (CIA), and Abruzzo International Airport Pescara (PSR). At all airports one has the option to rent a car. To reach L'Aquila from Rome and Pescara via the connecting motorways is relatively easy. Below some details about using public transportation, additional information are available at Visit Abruzzo.
Rome Fiumicino (FCO) to L'Aquila
There are different possibilities to reach L'Aquila from Rome Fiumicino (FCO):
Six daily buses connects Rome Fiumicino and Rome Ciampino to L'Aquila
Gaspari Bus - duration about 2h. The bus stops at "L'Aquila Amiternum" where taxis are available.
Take the train at the Airport Station until Roma Tiburtina (current duration 48′, timetable and tickets on Trenitalia); outside the station there is the ARPA terminal bus. Online timetables and tickets can be found at ARPA.
Rome Ciampino (CIA) to L'Aquila
Six daily buses connects Rome Fiumicino and Rome Ciampino to L'Aquila.
Gaspari Bus
How to get to L'Aquila – from Pescara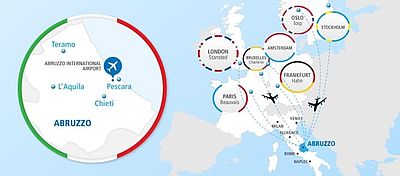 Abruzzo International Airport Pescara (PSR)
This airport is located near Pescara and about 119 km (74 miles) from L'Aquila, a  1h 20 min drive by car/bus on a motorway across the Appennine mountains. The airport is connected to the center of Pescara with Bus n. 8 and n. 38 line code GTM, with which you can reach Piazza della Repubblica, the Bus Terminal to the domestic and international destinations. From the Bus Terminal several runs to L'Aquila (Bus Terminal Collemaggio) are available. (ARPA)
Invitation Letters
Some ICPE attendees might need to request a visa to enter Italy. The ICPE organisers can issue invitation letters which can help with the visa application process. If you need an invitation letter, please send an email to the ICPE organisers (vittorio.cortellessa@univaq.it) with the subject line ICPE invitation letter request. You should ensure that at least the following information is included for each participant:
Full name:
Date of birth:
Passport number:
Affiliation:
Invitation letters will only be issued to:
All Speakers/Presenters
Scientific Committee Members (SC, PC, chairs, etc.) and other Distinguished Researchers recommended by conference chairs
Attendees who have paid their registration fee in full
Invitation letters will state only the following facts:
The personal details of the participant (that you specify in your email)
Conference title, dates, and location
The requester has paid the required registration fee in full