a
What People are Saying about Singing with Deborah...
I was able to sing and overcome the biggest fear of my life. I think everyone should spend a weekend discovering the joy and their relationship with singing at least once in their life times with Deborah." - Tan Su Cheng, Malaysia
"Deborah is a master – coach, teacher, guide, and friend all rolled into one. She has an extraordinary gift of meeting you exactly where you are – body, heart, and soul and guiding you with wisdom, humor and grace, to exactly where you want to be. Working with Deborah is a powerful journey towards fuller self-expression and a happier you – a joyous process of finding your voice, and feeding your soul! The results she produced to me were truly liberating – physically, mentally and emotionally." – Dr Lynelle Kerr, Singapore/Australia
"Emphasized to me the importance of context and self expression of every word or phrase and being relaxed and present during my communication" - Francis Xavier, Singapore
"I love the easy and natural way of Deborah's teaching, the blossoming of all, the joy of sharing through music, the fun of receiving from others. You definitely changed our life. I'll never be the same, when I sing for you, for all, for others. Thank you from the bottom of my heart!" - Ahimsa Ishaya, Spain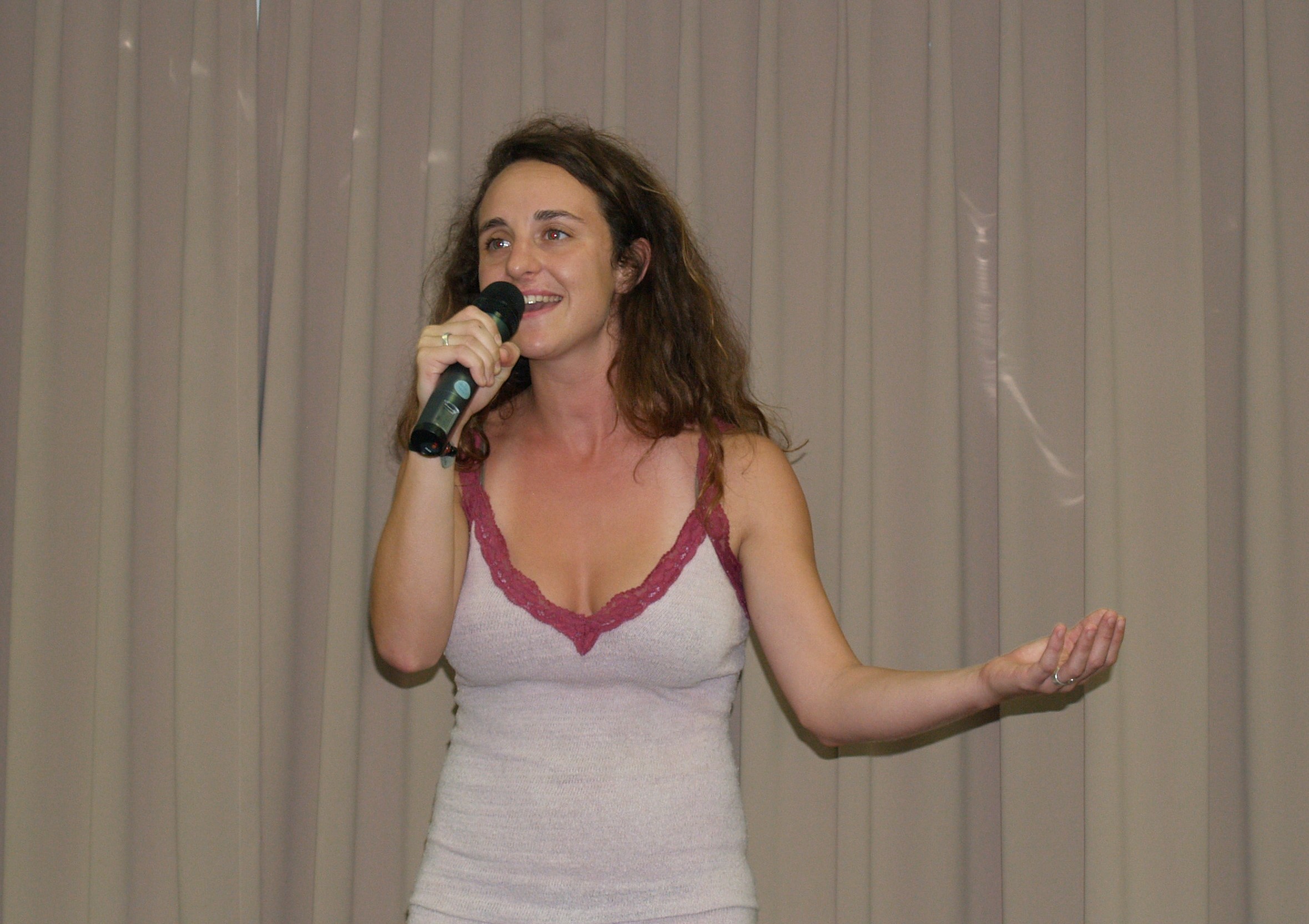 Picture: Ahimsa shared her love and joy through music
"I've improved tremendously in my communication skill – both in singing and speaking. I learnt a lot of celebrity secrets about voice and performance. The techniques and exercises that Deborah teaches are so simple, efficient yet so effective. I use them everyday. Now I feel truly confident. Deborah is an amazing teacher who not only transformed the way I communicate but also transformed me as a person. I feel so great and liberated whenever I express myself. Thank you Deborah! I love you!" - Ho Nhat Ha,Vietnam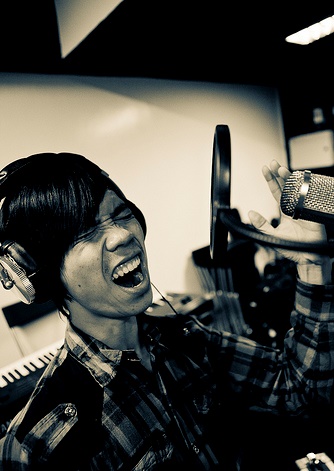 Picture: Nhat Ha sang his heart out with a beautiful song that he wrote himself
"You were such an inspiration in giving so much of yourself in patiently and effectively taking all of us, the participants, through our paces. You showed us the ropes in not only the art of singing but how to develop, nurse, enrich and project our voices for that desired impact.
Personally I would like to thank you for helping me to overcome my phlegm-choked voice and in the process rediscover my 'singing' voice, rekindling my love for singing and for the joys and valuable lessons I took home from participating in your superb and invigorating programs on how to enrich and harness my voice to better effect.
You certainly showed and proved that the ability to sing is within the reach of everyone. I would certainly recommend your programs to anyone who basically wants to find his/her voice, learn how to preserve it if one's work involves a lot of talking, and go on from there to discover the wonderment and joy of singing. Love & Hugs" - Elsie Sim, Singapore
"I bow to Queen Deborah who got me to sing. I am so grateful to you! What a rewarding world you introduced me to. I want to acknowledge you for your brilliant coaching. " – Dr. George Murphy, Professor Emeritus UCLA, Los Angeles
"My biggest "take-away" was that when you really connect to what you want to communicate, the message becomes even more powerful. I have also learnt how important music and song are in people's lives, how it can set your mood, create feelings and help spread your message through voice."- Nilla Spark, Australia
"I learnt how to sing very well and connect with people. It was very fun. I really had a blast!" - Veenea Nair, 11 years old, Brunei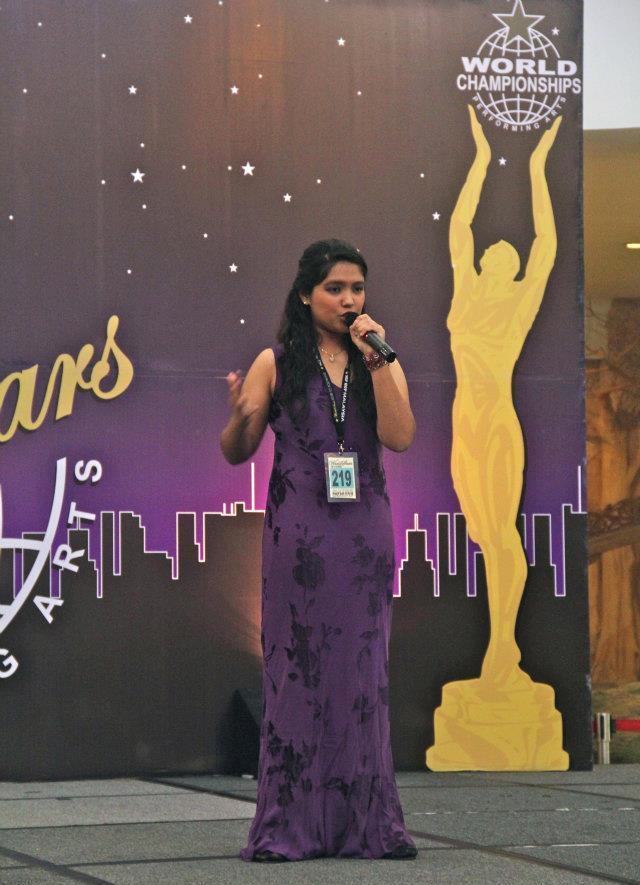 Picture: Veenea became a professional singer after the program
"Hi Deborah! I would like to take this opportunity to thank you for sharing with my daughter Veenea and I your most valued time, expertise, and passion in Music with unconditional love. Your experiential approach brought the best in all of us! We had a fantastic and unforgettable singing experience. May you continue to share your special gift with as many people out there...
I learnt that only when you sing from your heart you will be able to tap your inner power, you'll be able to express how deep is your love and find joy in singing. Deborah is an amazing woman who shares what all she got; a very loving, passionate GREAT TEACHER & VOCAL COACH, performer and a powerful motivator who values and believes that everyone has talent to express and share! Give yourself a gift and have a great experience with Deborah. You will be amazed with your transformation and discover the REAL POWER WITHIN YOU THROUGH SINGING!!!! Only the BEST!!!!" - Lennie Nair, Brunei
"I learnt the 3 keys to singing. I also learnt some useful warm-ups, "cheat" the vowels and express the song physically. It was very fun and energetic. It gave me a chance to express my feelings!" – Ethan Tan, 10 years old, Singapore
"Ethan enjoyed your course tremendously and I was so moved by his display of courage, from his independent participation with adults, up to his stage performance last night! We are all soooo proud of him :) Big thanks and hugs again Deborah!!!" - Deanne Chong, Singapore
"The space is safe and encouraging. I learn a distinction between speaking with your head and singing with your heart. Deborah facilitation really crystalised it. The transformation to speak would be much earlier and powerful." - Annabella Sim, Singapore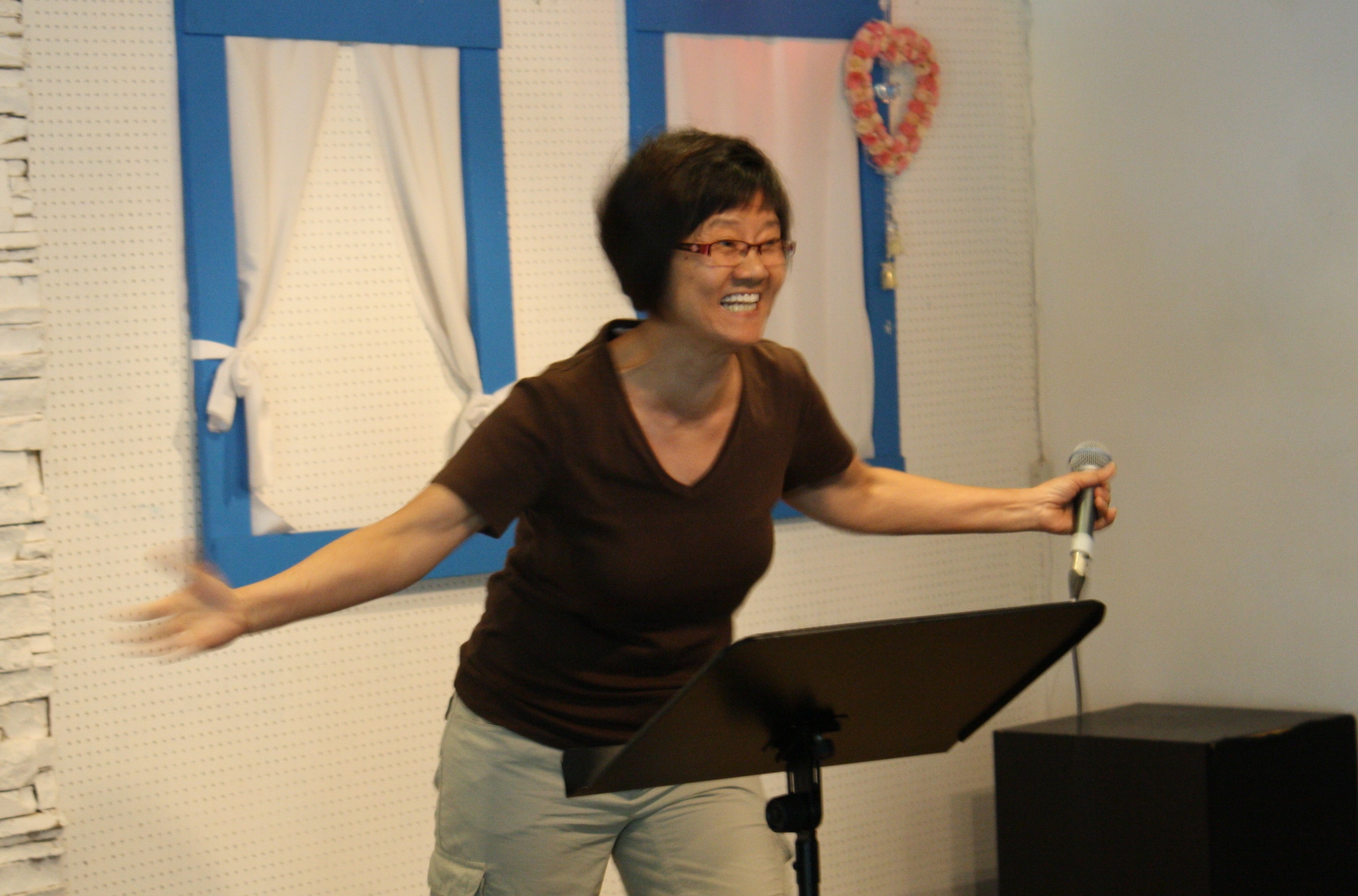 Picture: Annabella wowed the audience with her song
"I knew I could sing for fun, but what I didn't realize is how to Sing My Heart Out! Attending Deborah's program made me understand the power of connecting with my soul while singing. I have never seen a teacher as patient, generous, committed and as determined as Deborah. When it comes to teaching she makes sure that each of her participants gets a breakthrough and go beyond with singing. She immerses herself 200% to help her students achieve their dreams & goals.
That's what happened with me, my desire as a teenager was to inspire large groups of people with my singing but somewhere down my 'life path' my singing took a back seat due to other priorities. It's after being coached by Deborah that I became aware that this desire was still somewhere inside of me. Deborah knew just how to tap it out of me. It was a process of healing for my heart and my soul for the lost years.
This program has helped me improve the technicality that is involved in public speaking. I find this very effective when I conduct my own programs that involve talking in front of an audience.
Thank you My Dear Deborah for going deep into my heart to understand what was stopping me. Now I am just unstoppable because I now understand how to "Sing My Heart Out! "and "Speak My Heart Out" Thank You! Thank You! Thank You!" - Meera Nair, Singapore/India
"Deborah, you're awesome and I feel so blessed to work with you. This program is really life changing and really get what we need to go forward and succeed. And all this surrounded by so much love! I get much much more than I expected. Finally realised what my potential is. It's so cool to feel alive!" - Nana Aurran, France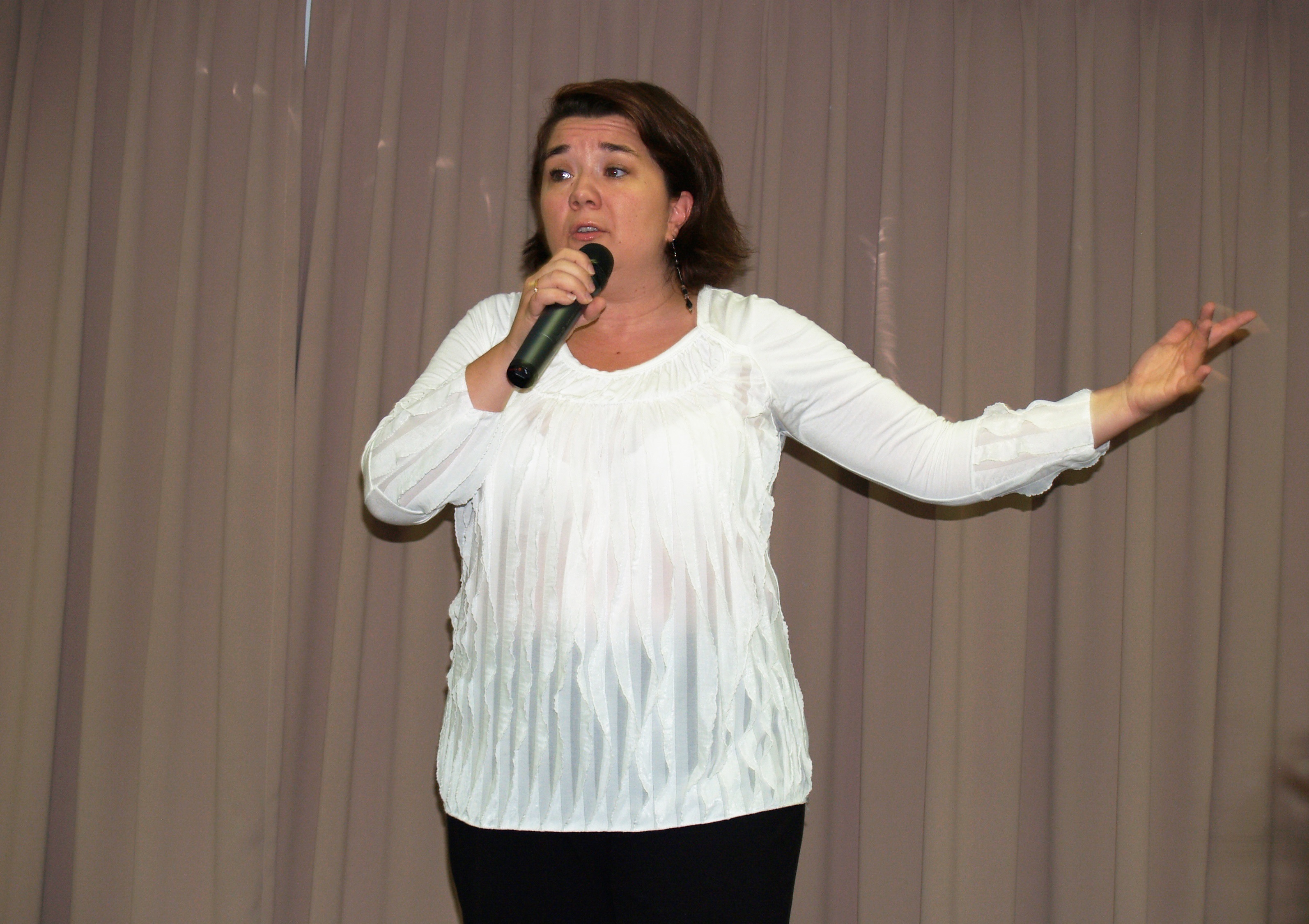 Picture: Nana unleashed her potential through singing
"I like how a safe space is created to help me grow as a person. I want to thank Deborah for being the incredible giving person she is. I feel mentally and emotionally free now." - Isadora Poh, Singapore
"I love that the participants was so open with everything and anyone. A lot of practice time and voice training with Deborah. I just had a lot of FUN" - Somya Thakker, Singapore/Japan
"Humbled at the power of singing to access my humility, authenticity, spirit. Through singing, I experienced that true leadership is about being in service." - Tim Hamons, America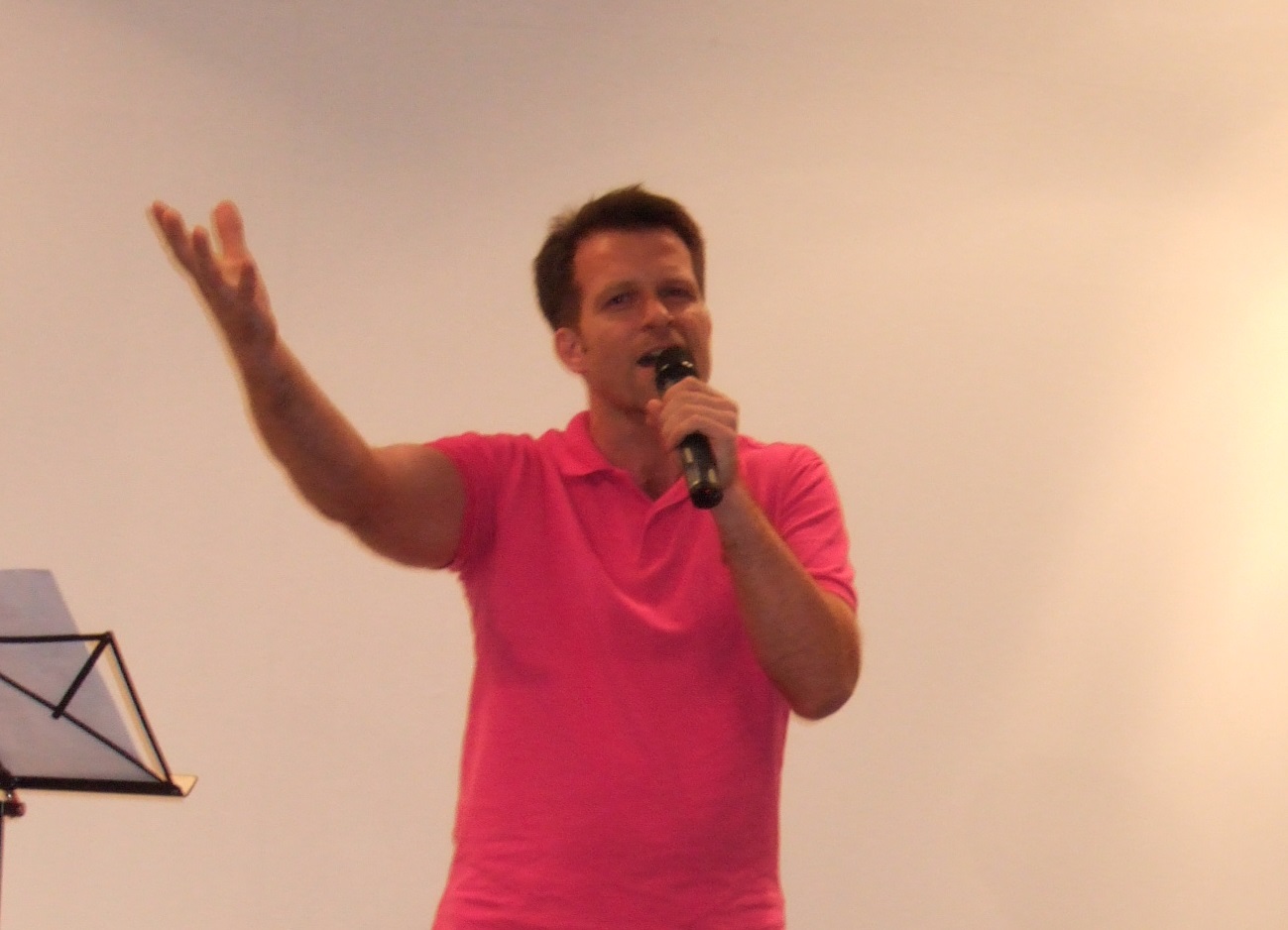 Picture: Tim brought his leadership through his song
"Saw the transformation, and even healing, in my friends. We can easily connect our emotions to our life stories and express or release through songs truthfully and genuinely when we give ourselves that space to be vulnerable and honest. Even if one can't sing like a professional, the essence and emotions can awe everyone to standing ovation. Awesome!" - Vivienne Quek, Singapore
"I learnt to stand at my own power and have self-confidence. It is very exciting with full of energy! Great support from others! This class is the best!" - Tan Jo Teing, 15 years old, Malaysia
"I feel I am in greater control of my voice. Stage fright no longer controls me. I now have my self-confidence on-stage" - Kevin Lee, Singapore
"My biggest take-away is opening up to even more feelings within myself and releasing my fear of relying on others." - Sharon Wong, Singapore
"I learnt useful techniques for warming up; cheating the vowels; gaining my confidence in using my voice. The coaching was excellent. Deborah gave 110% commitment and creates a safe environment to learn and practice without fear of criticism. The group was very supportive. I am very glad that I came." - Anne Chiang, Singapore
"I learnt to step into my power, feel in ease with myself. The vocal warm-ups, vocal techniques help anyone to sing like a star! I love the energy, and most importantly the space Deborah provides that allows all of us to unleash our natural talents and sing our heart out" -Kang Long, Singapore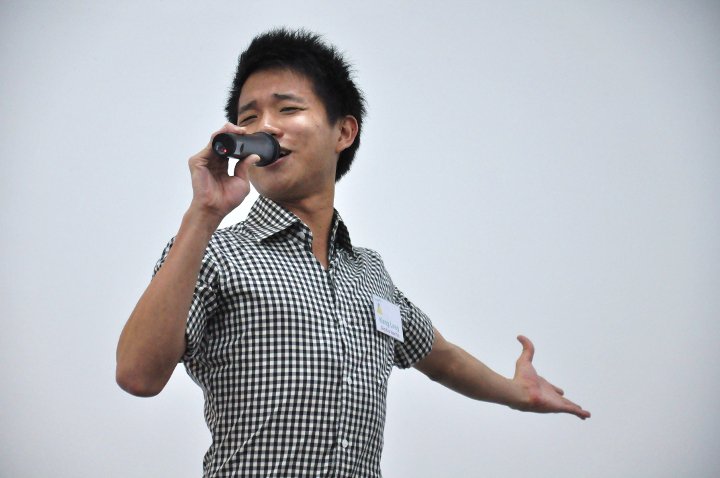 Picture: Kang Long stepped into his power and became a Super Star right before our very eyes!
"Deborah impacted with her wealth of knowledge and experience in a fun and easy way. The atmosphere was great for learning and receiving inspiration. Great job by Deborah and her team! Thank so much for sharing yourselves. Your energy is empowering." - Mary De Souza, Singapore
"It's really a lovely friendly environment to learn. Our coach - Deborah just guides us step by step. We learnt to share love and sing. I learnt how to express myself through the song. Trust me! Everybody can sing like a star." - Cassandra Lim, Malaysia
"I gained the ability to sing from my heart and emote better. My take away is confidence to sing and speak from stage and knowledge about music, singing, talent, teaching. I can now be physically, emotionally and mentally connected to the song and visualized each and every word to sing from the heart." - Dr. Dharma Rai, Brunei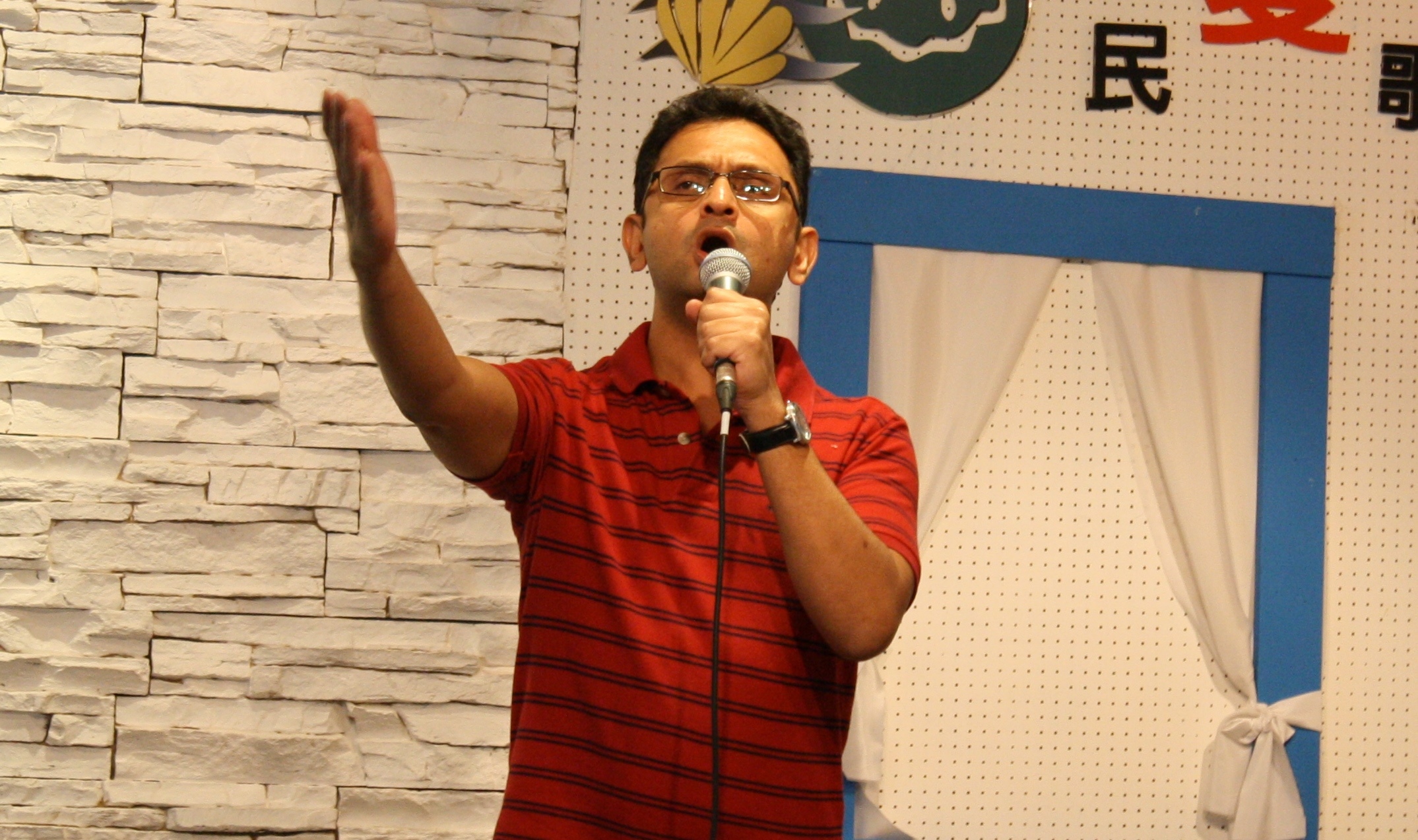 Picture: Dr. Dharma thought there was something missing in his communication that he couldn't put his finger on. At the program, he discovered the missing piece was that "human touch". Dharma learned how to confidently speak and sing from his heart which helped him to bring his humanity out with patients.