ONLINE JURY:
ON STAGE JURY:
-------------------------------------------------------------------
ONLINE JURY
Denise Silber, an American in Paris, an eHealth pioneer, has been involved in the web since 1995, creating some of the first medical web sites in France and participating in working groups on quality and ethics on the web including : AFGIS, European Commission, French Ministry of Health, HAS, HON, Internet Healthcare Coalition, WHO, URAC…
In 2007, Denise began to promote Web 2.0 in healthcare in Europe. In 2008, she founded AQIS, the association for the Quality of Health Internet Sites. In 2010, her company Basil Strategies co-organized the Health 2.0 Europe conference in Paris and this year is in charge of Doctors 2.0 & You. Denise also teaches at Essec Business School. A Harvard MBA, Denise is President of PharMBA. Don't miss her blog. Twitter: @health20paris. On Jan 1, 2011, Denise was named to the Legion of Honor, France's highest civil decoration.
Bertalan Meskó, MD graduated from the University of Debrecen, Medical School and Health Science center asa medical doctor in 2009 and started PhD in the field of clinical genomics.
He is the managing director and founder of Webicina.com LLC, the first free medical social media guidance service for patients and medical professionals. He speaks at prestigious conferences; covers online international events and is a health 2.0 consultant for pharma and medical companies. Healthspottr.com included him in the Future Health Top 100 list.
He is the author of the multiple award-winning medical blog, Scienceroll.com and the educator of the Social Media in Medicine university credit course which is the first of its kind worldwide.
His work was mentioned by the World Health Organization, Nature Medicine, the New York Times, Al Jazeera, British Medical Journal and Wired Science, among others. He is a member of the Kairos Society.
Chaturika Jayadewa is a Buisness Analytics and Optimisation consultant at IBM. Business analytics and optimisation helps organisations to make better decisions and optimise enterprise performance by combining strategy, information management, and advanced analytics, while using the power of smarter technology to address important and complex issues. In this role Chatu has worked on a number of life sciences and healthcare projects including telehealth, patient centric medicine, clinical trial optimisation and predictive analytics for healthcare optimisation.
Chatu's academic background is in Medical Genetics with a PhD in Oncology and Medical Physics. Working at the oncology specialised Royal Marsden Hospital in London Chatu had first hand experience in patient centric medicine and clinical trial optimisation.
Chatu is a keen advocate of empowered patients and patient centricity, being a core member of the organisation team for the IBM and Novartis Non communicable disease challenge. Keep up to date with Chatu via Twitter @C_Jayadewa or through Linkedin.
Fiona obtained B.S. and M.S. degrees in electrical engineering from Stanford University, with an M.S. concentration in medical imaging, on a full scholarship from a Singaporean company. She returned to Singapore after graduation, beginning her career in intelligent transport systems. Later, Fiona led a team developing translatable healthcare applications combined with new media.
After serving out her scholarship bond, Fiona took up the Singapore-Stanford Biodesign programme to be part of the biomedical device start-up scene in Singapore. In addition to research and commercial development, she is interested in socially conscious business models in developing countries.
Dr. Santi Garcia-Tonel has been Head of the Ambulatory Pediatric Division and Adolescent Medicine in Hospital Sant Joan de Déu (Barcelona) till last December, where he still is associate professor of Pediatrics.
He is a renowned pediatrician in Spain, working in Barcelona, and author of the blog Reflexiones de un pediatra curtido (Reflections of a pediatrician tanned), which explains his experiences as a professional and gives practical advice and information aimed at parents. PhD, University of Barcelona Cum laude in 1994.
Dr. Santi Garcia-Tornel is an early adopter of new technology related to medicine and pediatrics.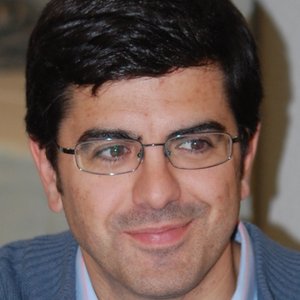 Francisco Sánchez Laguna is a specialist in Family and Community Medicine. Master in Health Informatics (City University London), graduated with distinction for his project on the use of open source software in healthcare. Expert in Healthcare Management (Andalusian School of Public Health). Expert in Management and Technology Applications (Alcalá de Henares University). Deputy medical director at Hospital Universitario Reina Sofia for 4 years, leading most of the IT projects. Editor of a blog mainly focused on the applications of technology to healthcare and management. With extensive experience in web 2.0, social networks and portable devices.
Aitor Guitarte Vidaurre is a Med Student on his last year of College. Former Spanish Medical Students' Council's member and treasurer during his first years at the University of Navarra.
Started the Somos Medicina project () in 2008 blogging about web 2.0 and use of social media in Medicine as a way to learn and share knowledge with colleagues. Since then he took part in other projects such as Vive la Salud medical social network and talked in several events involving eHealth.
Bart is owner and manager of a home for the elderly since 1995. The carehome currently provides housing and care for 72 senior customers. He is also initiator of Zorgbeheer.com (zorgbeheer = caremanagement), an internet-platform for "captains of care" he started in 2006. As an autodidact he has profound knowledge of developing software for carehomes (care registration + invoicing + management + intranet + workflow + domotics) and employee scheduling software.
Furthermore he has vast experience with database design, programming, webservers, network infrastructure, software development, social media and collaboration-applications. Since 2005 he is evaluating wireless monitoring and communication solutions in healthcare (also known as mobile health or mHealth). Co-founder of Healthstartup.eu, launching in October 2011.
ON STAGE JURY
Chia's background spans product design, marketing, and both hard sciences and the visual arts. Before Qubop, she was Director of Marketing at Ansca Mobile, where she was responsible for leading brand strategy, public relations, and product marketing.
Chia previously worked at 23andMe, where she built the company's user communities, using a network of enthusiastic users to successfully launch a new product. In addition, she created a new business line with niche customers of the service, and managed some of the earliest efforts in marketing genetics to consumers.
Chia has worked in biotech as a medicinal chemist, completed all coursework for a PhD in Chemistry, received her MS from UCSD, and earned her bachelor's degree from Williams College. She is a coauthor of Teach Yourself the Twitter API in 24 Hours (Sams) and an expert at the integration of game mechanics and social features into apps.
Dan brings more than five years of healthcare strategy consulting experience to Healthbox. Most recently, he served on the founding team of Physician Career Management Group (PCMG), an agency that represents early career physicians seeking job placement, contract review, and business advisory services.
Prior to joining PCMG, Dan served as a senior consultant with The Camden Group, specializing in organization-wide business planning and service line development, with a focus on strategic and financial planning. He also spent a few years with Sg2, a healthcare consulting and thought leadership firm, where he worked with health systems in the UK, Canada, and Southeast Asia, focusing on international standards of clinical excellence and care delivery models.
Dan earned his Bachelor of Science degree at the University of Michigan in Ann Arbor, where he majored in biology. He currently chairs the Associate Board of Urban Students Empowered, a nonprofit that offers college prep services to underprivileged high schools students in Chicago.
Lekshmy Parameswaran is a founding partner of fuelfor, an innovation design consultancy specialised in healthcare and based in Barcelona. With more than 10 years of healthcare industry experience, she has been leading programs to generate and translate insights into new business value propositions for public and private sector clients in EU, USA and Asia.
At fuelfor she is responsible for Insights Research and Strategy, bringing the voices of patients, their families and care providers into the innovation process in inspiring ways. A strong thread through her work is the abilit to communicate credibly across disciplines: encouraging innovation teams to challenge conventional thinking and to use design thinking and doing as a strategic tool for innovation.
Prior to founding fuelfor, Lekshmy enjoyed a 10-year career working with Philips Healthcare supporting the development of their Care Cycle strategy, Consumer Healthcare and Ambient Experience businesses.
She holds a Master of Engineering degree from Cambridge University and a Master of Arts from the Royal College of Art in London.
Senior Consultant at Telefonica for mobile apps business development. Telecom engineer and MBA with honorable mention at IE Business School, he works in creating innovative business models in mobility areas, managing a customer portfolio with more than 150 customers and giving support to more than 2000. Previously he has worked in enterprises such as Ericsson and Accenture.
Passionate about communication and innovation, with a bachelor of Medicine and Surgery. Professionally, he has been dedicated to strategic marketing and communication within the healthcare sector since the early 1990s. Previously, he worked as an A&E doctor, Medical and Marketing Unit Manager for Boehringer Mannheim and Business Unit Manager for Roche Pharmaceuticals. He is Co-founder and Managing Director of innuo, started in 2002, and he collaborates as a Professor at a variety of universities.